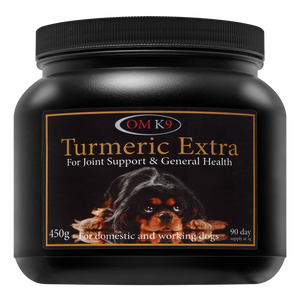 OM K9 Turmeric 
A combination of essential super spices tailored for all round dog health and happiness
It's well known that turmeric is a super-spice; a powerful ingredient linked with maintaining healthy levels of inflammation[1] and a potent antioxidant. Loved by humans and horses, We thought it only right that man's best friend reaped the benefits too. To make this supplement extra special, it also contains ingredients such as boswellia, linseed meal and sea buckthorn, together creating a fantastic all-round canine supplement.
Made from 100% natural ingredients, your pooch can benefit in the following ways:
Both turmeric and boswellia significantly support joint and soft tissue health by managing inflammation and lessening the impact of stiffness. This sustains optimum joint function, especially for active, hardworking or aging dogs who need support with movement and mobility
Turmeric and boswellia also contain properties which support liver and gallbladder health, including stimulating healthy bile production
Turmeric aids healthy and natural digestive function, supporting the passing of faeces and soothing the stomach lining. It's an excellent antioxidant which is hugely beneficial for overall health and wellbeing, benefiting almost every major system in the body
Linseed meal is rich in fatty acid omega 3, which supports exceptional coat and skin health, a perfect combination with turmeric which soothes irritated and itchy skin 
Finally, sea buckthorn is a super fruit full omega fatty acids. These maintain healthy skin and claws, while also providing mental, digestive, reproductive, pulmonary and joint support
We have spent years researching natural ingredients which benefits dogs and curated an incredible combination of ingredients specifically tailored to benefit canine health. Developed in the UK, this safe supplement will ensure your dog feels bright, happy and healthy every day.
[1] https://www.ncbi.nlm.nih.gov/pubmed/19723086

Feeding Guidelines:
Small dogs 5g per day (2 scoops)
Medium dogs 10g per day (4 scoops)
Large dogs 15g per day (6 scoops)

Composition: 
Linseed Meal
Turmeric powder
Nettle
Ginger 
Boswellia Serrata
Sea Buckthorn Powder
Calcium Carbonate

Additives: Vitamins:
Vitmain E 3a700 (alpha-tocopherol acetate) 280mg/kg